CEBU PHILIPPINE WOMEN
Cebu is one of the most developed provinces in the country and the main center of commerce, trade, education and industry in the central and southern parts of the archipelago. It has five-star hotels, (The Agency Cebu Hotel and Casino), white sand beaches, world-class golf courses, convention centers, and shopping malls.
The only thing more beautiful than this lush paradise are the Women, Beautiful, Educated, and looking for Love! If you have ever dreamed about a trip to the Philippines, then you have to include the exotic Island of Cebu. The UK-based Condenast Travellers Magazine named Cebu the 7th best island destination in the Indian Ocean-Asia region.
Philippine Singles Tour Includes
Two fully catered, specific invitation, large Socials
Hotel accommodations in Cebu Philippines
Unlimited Personal Introductions
Airport Pickup
Breakfast daily
One hotel area and city orientation tour
24-hour hospitality and guidance from our AFA staff
In-house complimentary interpreting services located in the AFA office
1 month Platinum Membership ($95.00 value)
Publication "The Foreign Bride Travel Guide" ($25 value)
Talk With Philippine Women Every Wednesday Night
Be sure to join in every Wednesday 9:30 PM to 10:30 PM Eastern Time for our Asian Conference Call. Get your chance to talk to our Philippines office each week! Our office manager will be there to answer your questions, along with interested ladies, concerning their culture and country, and the entire Singles Tour experience. Don't miss out; talk with different available women every week!
Participation is easy and FREE (normal long distance charges will apply). Simply call 1-(209) 689-0007 and when prompted enter conference code 103766 Once you have joined the conference simply press 5* to join the conversation!
Philippine Tour Testimonials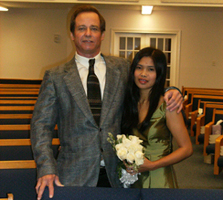 I hope you are doing fine and that your business is good. I know the economy here in the USA is terrible at this time and that maybe will affect your client numbers. I hope not , But here is the 'FINAL PRODUCT' of what you and others helped accomplish for us. Noime and I were married Oct, 5th in the church here in Athens,Texas.

We wanted to send you a photo for your records. Yes you may use it in anything you want as far as advertising for your company.

William & Noime Miole Keyworth
I found my new wife to be. She was one that I had been emailing for a few months. But seeing her in person sealed the deal for me. She in fact ,got up and sang a song to me at one of the socials. they were nice enough to allow her to sing and she brought the house down,,They said that they would get her a dvd of her performance, that was so thoughtful. soon as we marry,.. I am taking her to "Nashville" ,She was great.. You were right, about my worries of using the wheelchair due to my recent surgery, It was no problem. the girls looked right past that and looked at the man.. I never felt out of place These ladies really were the best and you should be proud of your organization , The hotel was as nice as any hotel in Vegas that I have stayed at ,and thats the truth.. They charged us for every little thing ,except maybe for the "air" we breathed , but that is their culture and we adapted . the service and food was impeccable. a real first class place to stay. If I could. I would go back tomorrow John. Thank you for a great experience and the little promo that they asked me to do on tape, was sincere and true and I meant every word of this.

Anonymous
This experience was truly overwhelming! One of the best investments I ever made in myself, in my life and its quality! Thank you for providing such a powerful life changing service. You and your staff are impacting the future of so many people in a profoundly positive way that your name and deeds will live on for generations. I will be in contact with you and your staff as I pursue my goal, either for assistance with wedding and visa or with my continual such. You know what, y'all fill like family!

Wilford L
Discover why more Singles Tour clients place their trust in Find Your Foreign Bride each and every year than any other tour agency!
Now have all your Singles Tour questions answered by one of our Tour Representatives 7 days a week, from 9AM to 9PM MST, by calling our Tour Info line at (602) 553-8178
ANNOUNCING OUR LIVE TELEPHONE FORUM
WE'RE HERE TO ANSWER YOUR QUESTIONS ABOUT EVERYTHING!
AND SO MUCH MORE!
ALL FREE (YOU JUST HAVE TO JOIN THE DISCUSSION)
Be a part of A Foreign Affair 's only live telephone discussion group as our panel answers your questions concerning Foreign brides, immigration issues, cultural differences and Foreign marriage services/Singles Tours. Our panel often includes John Adams, President of A Foreign Affair , Bud Patterson, a leading expert, past Singles Tour clients and real foreign ladies who have happily married American men just like you. You will be joined by up to 100 callers from around the world for an hour or more of informative, current, and important information for anyone considering meeting and marrying a foreign bride. It's free, informative, and fun, so mark it on your calendar and be sure to call in and join the conversation!